A message from Jim Wroda Auction Services and Matthew Wroda Auctions, LLC: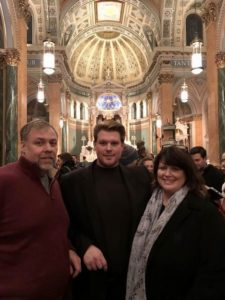 Over the past year Jim Wroda Auction Services and Matthew Wroda Auctions and Appraisals have been working together to bring innovation to their auction businesses. During the discussions, Jim and Matthew found the obvious answer would be to join forces. With this progression, we are very excited to keep the auction business in the family for another generation with Matthew Wroda stepping in as the owner of the newly formed Matthew Wroda Auctions, LLC and Jim Wroda coming on board as lead auctioneer and lead auction coordinator/cataloger. Our team from the Ohio office remains with Amy Wroda as office manager and Jaci Seerat working in receivables and payments. Brian Foster of Sunflower Development Solutions has been brought on to oversee technological development with Matthew and Jim. Brian has done an amazing job with our new website and is currently working with Matthew and Jim on an app for your mobile devices. We look forward to continued relationships with individuals that promote and inform collectors such as Brian Foster, Christina Katsikas, Glen and Stephen Thistlewood, the leadership at the RS Prussia clubs and other organizations devoted to assisting new and seasoned collectors with knowledge and education.
It is important to note that in this transition there will be no major changes aside from a name change. Over the next few months we will be rolling out some new technology to provide a new way of interacting with live auctions as well as a way to view our catalogs. If you visit www.MatthewWrodaAuctions.com you will already notice a few subtle changes. We hope that you are as excited about this transition as we are!
At this time, we are also very excited to announce our commitment to giving back. Jim, Laurie and Matthew are excited to share that with your help, our foundation "For the Love of Lizzie" has raised over $10,000 to help pets who are in need of emergency surgeries or medication that the pet's family could not otherwise afford. With a nudge from Christina Katsikas, we are currently organizing a facebook page as well as a website for those who would like to participate, see the progress of the organization and the numerous pets that it has and will help around the country. ForTheLoveOfLizzie.org has been secured and we are down to four choices for a very special logo. Please watch our website for continued updates on this!
Looking forward, we continue our commitment to another 20+ years bringing you quality antiquities from around the world to ur collectors and assisting in the auctioning of your collections!
From all of us at Matthew Wroda Auctions, LLC have a very Happy New Year and we will see you at our first auction on January 6th, 2018 and will follow this up with our first Carnival Glass auction on January 13th at the Chautauqua Lake Antique Center.
– The Matthew Wroda Auctions, LLC Team
—–
A message from Jim and Laurie:
Laurie and I could not be more excited that Matthew will be continuing our auction company that we have built over the last 20 years. Laurie and I have had discussions over the past three years about who will continue our company or do we just close the auction business when I'm ready to retire? About a year ago, Matthew and I started to discuss options for both our auction companies. After many different conversations between Laurie and I, we came right back to Matthew. Though people may not think it, we have never given Matthew anything, he has had to earn it. We have been very fortunate to have a son who has taken life seriously. He has excelled in the Real Estate business including being awarded Realtor of the Year in his first year by his peers, being recognized in the top 5% of real estate professionals in the country and taking on Manhattan real estate for the last two-and-a-half years…and he's only 25! He continues to make us proud everyday and now with Matthew and I merging our two auctions companies together, it truly is a dream come true. I absolutely believe he has earned it and deserves it. I look forward to working with my son in this business and making the company stronger and better than ever. As an example, look at the website Matthew brought to life with from his vision and you will already see he is serious. I am so thrilled to be along for the ride for at least another 10-15 years as the lead auctioneer and cataloger for Matthew Wroda Auctions, LLC.
—–
A message from Matthew:
I am so honored to step into the role as owner of Matthew Wroda Auctions, LLC with Jim Wroda continuing to be the lead auctioneer and lead auction coordinator/cataloger. Knowing the superb legacy that my parents, Jim and Laurie, have created over the past 20+ years, this transition is a natural fit and one that I am quite excited about. Over the next few months I look forward to developing our ideas even further and bringing you effective technology that will make bidding, viewing catalogs, and so much more – easier. Our first innovation is our new web page www.MatthewWrodaAuctions.com which I hope you will find as having a completely refreshed look and a more interactive experience. Check your inbox come the first of the year for our first monthly newsletter outlining upcoming auctions and interesting happenings from the antique world! Looking forward to beginning the next generation of this company!